Springs
Eibach Sportline Springs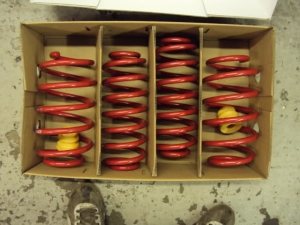 SPORTLINE | Sport Performance Springs

##Extreme Performance Meets Extreme Style
##Race-Car Like Handling
##Lower than our Pro-Kit. Lowers Vehicle 1.7" - 2.3" (50 mm)
##Progressive Spring Design for Excellent Ride Quality
##Part of the Eibach B12 Sportline

Eibach Sportline is the extreme-performance spring set created for the extreme enthusiast—the one who craves a racecar attitude for maximum street performance—with the lowest possible drop, but with the exceptional ride quality you expect from Eibach.

Engineered with the same care as our Pro-Kit springs, Eibach Sportline springs achieve legendary handling by aggressively lowering your car's centre of gravity, using our precision-engineered progressive spring rates.

By radically lowering your car's centre of gravity, our Sportline springs dramatically reduce squat during acceleration, body roll in corners and nose-dive under braking.

By using our proprietary, progressive spring design, our Sportline springs provide the ultimate balance between high performance, extreme lowering and comfortable ride quality.

When combined with today's wild bigger wheels and tires, the result is a car that handles just as satisfactorily as it looks.

Added by
bbfb10
, on 2015-09-16 15:00:53
from 1 review.
EIBACH SPORTLINE
by
Duffmeister
, on 2017-01-03 23:18:17
Had these fit with the stock low mileage shocks on the premise of lowering by 20mm over stock, however h ad them removed after two days as the rear stayed at factory height but the front lowered 40mm giving a ridiculous looking stance. Very dissatisfied as I had to get a refund and loose the fitting costs. Now b back to stock.
Have one to sell?
This mod is Wanted by the following 4 members: