OEM Sat Navs and Radios
RCD 330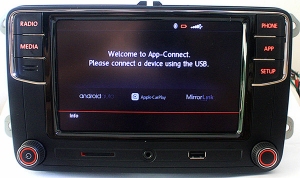 A Volkswagen OEM stereo fitted standard on cars in China such as the Lavida, Santana and Sagitar, the RCD 330 utilises the updated MIB menu design seen on Golf MK7 and is plug and play for PQ35 platform cars (Golf MK5+) though it does require an updated canbus gateway and steering module for full functionality.

There are four variants of the RCD 330 which are:

= 6RD 035 187 =
Features a built-in Bluetooth module and Microphone, SD Card, AUX In and USB connectivity as standard as well as an integrated CD player and a 5" touch screen.

= 6RD 035 187A =
As above but loses the inbuilt CD Player and gains a bigger touchscreen instead (6.5"). There are two makes of the A version, Desay which uses Windows Embedded and the "Noname" version using Linux instead.

= 6RD 035 187B =
Improves upon the A version with bigger RAM (1GB) and App Connect Smartphone link function (Apple CarPlay, Baidu CarLife and Mirrorlink as standard though firmware can be modified to swap Baidu CarLife for Android Auto instead on the "Noname" variants).

= 6RF 035 187E =
This system contains the Western variant of App Connect as standard from the factory (Apple CarPlay, Android Auto & Mirrorlink), general functionality is no different from the B version.
Added by
PatchySan
, on 2018-05-03 04:02:54
Have one to sell?
This mod is Wanted by the following 4 members: