Sealants & Waxes
Collinite 476s Super Double coat Wax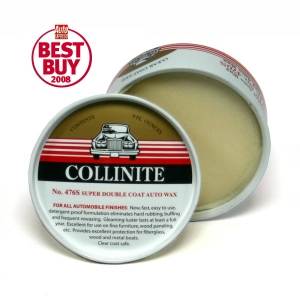 Without doubt Collinite 476 is the most durable car wax we have come across. It doesn't smell great but once you see just how good the results are and how easy to apply you will forgive it that. Buffing of is also childs play and the results look absolutely stunning. It adds depth to solid colours whilst not muting the flake on metallics.

Super Double coat paste wax #476 is a Carnauba based wax packaged in a tin that looks like it belongs in the 50's. Don't let that fool you though this is one of the finest waxes on the market. It is a true paste wax and contains absolutly no cleaners so by applying multiple thin layers you leave a finish which is more durable than not just any wax, but just about any sealant on the market.
Added by
Scottymon
, on 2014-10-27 22:58:08
from 3 reviews.
One of my favourite products
by
Scottymon
, on 2014-10-27 22:59:35
Just love this product, so easy to apply, buff and shine... lasts well too.
The finest wax I've used
by
Golf_GT_TDI
, on 2015-04-21 12:12:37
The finish it gives is stunning, seriously recommend
Good stuff
by
robmcclel
, on 2015-07-06 15:30:33
Great product, not as easy to apply and buff off as AutoGlym HD wax in my opinion but for the price you can't beat it.
Members with this product: