Car Wash and Car Wash Gear
Bilt-Hamber Auto Foam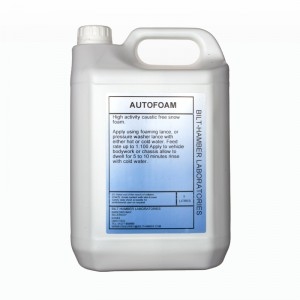 Bilt-Hamber auto-foam is a new generation premium quality, foaming water-based pre wash treatment, designed to soak and saturate soiled vehicle paintwork prior to the application of vehicle shampoo and paint food. auto-foam is gentle too and is for use with all pressure washer foam lances. Applied at a typical PIR (Panel Impact Ratio) of 4%. auto-foam will panel dwell for typically 5 minutes. auto-foam is formulated specifically to offer maximum wetting it rinses easily too it is not designed as a superficial high foam product but as a functional material.
Added by
Eniqmatic
, on 2014-10-27 21:00:05
from 1 review.
Doesn't foam much
by
Scottymon
, on 2014-10-27 21:50:05
I wasn't sure if it was my lance, but others have reported that this Snow Foam doesn't really Foam that much, but has good cleaning properties. I'm eager to try something that dwells a little longer... perhaps the Magifoam.